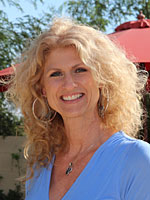 Lea Cisero (formerly Lea Blumberg) is a certified hypnotherapist/life coach who specializes in Mind-Body Wellness and is the Director of the New Life Awareness Institute (NLAI). She is a certified trainer for the HypnoFertility Foundation and former Director of the Prenatal Parenting Program® for the state of Arizona, where she has studied and practiced since 1986. She is currently working on obtaining her degree in addiction counseling and practitioner certification in Somatic Experience(SE), trauma therapy.

Lea has been trained and certified in many healing modalities. She holds practitioner certifications in Medical Hypnosis,  Sports Hypnosis, Addiction Relapse Prevention, Neuro Linguistic Programing (NLP), Life Coaching, Time Line Therapy®, Access Consciousness™, Access Body™, HypnoBirthing®, Hypno-Fertility®, and Fertility/Birth by Hypnosis.
Lea is also a registered Reiki Master and Karuna Master Teacher and holds special certifications in post traumatic stress disorder (PTSD), pediatric hypnosis with emphasis on ADD/ADHA/Autism,  past life regression, weight loss, smoking cessation, pain management, allergy relief, sleep deprivation, stress management, hospice, as well as cancer and related issues. She is registered with the International Center of Reiki Training and a member of the National Guild of Hypnotists, the National Federation of Neuro-Linguistic Psychology, and the Arizona Society for Professional Hypnosis.
Lea is a charter member of The Addiction Project, a global network of therapists and hypnotherapists who specialize in Relapse Prevention and Addiction Freedom, using  hypnosis, NLP, and motivational enhancement.
In the 1990's, Lea trained and worked side by side with the late Dr. Michael Preston, working with a variety of medical conditions. Her work included, but was not limited to, the mental/emotional body in preparation and recovery from surgery, pain management for known and unknown causes, and working with disease in the body with her focus on cancer and related issues. She also volunteered her time with hospice, and continues to be a catalyst for individuals healing from life situations, personal loss, and making the transition from this life to the next.
In 1999, Lea concentrated her skills on fertility and childbirth. After many years of regressing clients back to the initial cause of their issue, Lea found that most often her clients would return to their time in the womb or shortly after birth. Realizing the importance of this observation, Lea began focusing her attention on working and educating parents about womb activity and their personal role in their baby's brain development, including personality and mental/emotional state. Parents awareness of their own unresolved past issues, stress levels and emotional state as well as the environment baby is exposed to daily inside and outside the womb is crucial. After several years of working with parents she realized she needed to take her work a step further.
Lea developed the programs Preparing for Conception and Optimizing Your Fertility Intervention to help couples release and let go of unhealthy habits, behaviors, and belief systems before they get pregnant, so that they can conceive with a healthier state of mind; making conception easier and giving the baby the best possible start in life. With calm and in control parents who knew how to manage their stress, Lea saw a significant shift in the babies being born. The babies were calm, often slept through the night early on, and grew to be well adjusted.  Lea still loves assisting new soul's entering into this world as well as guiding their parents in their relationship with each other and their new role as parents. She believes Preparing for Conception is the most important work a parent can do and will have the biggest impact on generations to come.
In 2009 Lea expanded her work with individuals in transition, with a focus on divorce/relationship recovery after she ended her own marriage of 23 years. Seeing the huge need for support during this devastating time, Lea developed the Divorce/Relationship Recovery Program, which was created from her own experiences, healing, and insight. Lea states, "I attribute my recovery success to my training, my work, and the self-exploration I've done throughout my life. I feel as if my whole life was in preparation for this moment in time. It was the most challenging experience I've ever faced. I used everything I knew to sustain myself through the darkness, and thrive when life as I knew it unraveled."
Lea with her training, experience and knowledge in the field of neurosciences, now devotes her attention to addiction relapse prevention after her own personal family experience. As a member of the worldwide Addiction Project Team, Lea is excited to now offer the Addiction Freedom Program as well as custom recovery programs to clients in the Phoenix Metropolitan Area.
With 30 years experience, Lea continues helping clients heal and let go of people, places, times, events, and relationships from the past that are over but, not over in their mind; recreating healthy behaviors, habits, and perceptions so that they can resolve and let go of their past, make better choices, and move forward living a happy, healthy life.
CALL NOW to see how Lea can assist you in living a happier, healthy life. 480-502-5074